Blog
You've just developed an app. Now what?
on
---
After many tireless hours, you've finally developed the application that you passionately believe will change the world (for the better). You've launched it into either Apple's App Store and/or the Google Play Store, and now you anxiously ponder the same questions that keep all good app developers and product teams up at night:
How many downloads will you get?
Where will it rank? Top 10? Top 100? Featured apps?
Will it meet the business benefits that you set out to achieve?
Will your application meet the end user's expectations?
What will the average app star rating be?
All of the above can be objectively measured. Some more difficult than others. In today's blog we will address the last two questions.
Currently today most of you are likely visiting your Apple App Store or Google Play Store app pages daily, weekly or perhaps even monthly.
As you read through the feedback you are confronted with praise, complaints, suggestions on how to make your application better, and a star rating between 1 and 5 which attempts to measure the customer's overall satisfaction with your application.
You are most likely viewing this feedback from a phone/tablet or on a desktop. In most cases you likely skim reading this information, or if you are the unfortunate analytics person in your team, you are most likely copying and pasting this into some sort of database, Qlikview or Excel file. Does this ring a bell?
As app developers ourselves we had the same problems. So we built Heedzy (free to register). Heedzy is a tool which allows you to download all of this valuable feedback into a lightweight CSV file. Imagine, all of your feedback in a single convenient location which can be easily grouped, tagged and analyzed with some basic spreadsheet knowledge.
How many 5 star ratings did you get with the most recent release?
How did the last application version rate?
What have your customers been saying about your app?
Is there any defects or issues you should know about?
With a basic understanding of pivot tables and/or sort and filter which comes standard in most spreadsheet applications, it's possible to glean answers and insights without expending much energy at all.
Below we quickly did analysis on Facebook (US) for both Apple App Store and Google Play. This is based on an extract we pulled out using Heedzy on the 24th April 2016.
Apple's App Store: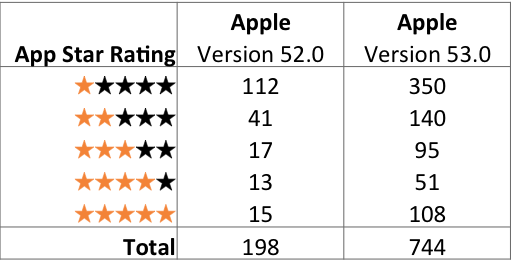 Google Play:

Doing a quick work filter on the data, the word 'crash' appears in 183 items of feedback on their Apple version, and 198 times for their Android version. The word 'love' appears in 53 items of feedback on their Apple version, and 1180 times on their Android version.
With a bit more TLC, more insights and leads could easily be produced using the data extracted using Heedzy.